Do you need to attend the SEPE offices and do you have to make an INEM appointment online?
What is INEM?
For other uses of the INEM acronym, see INEM. The National Employment System of Spain is the set of structures, measures and actions necessary to promote and develop employment policy in the State as a whole.
What is SEPE?
The Public State Employment Service in Spain (SEPE) is an autonomous body attached to the Ministry of Labor, Migration and Social Security. SEPE, together with the Public Employment Services of the Autonomous Communities, form the National Employment System. This system assumes the functions of the defunct National Employment Institute (INEM) since 2003. From this state structure, measures and actions for employment are promoted, designed and developed, whose execution is decentralized, adjusted to the different territorial realities.
At CitaPreviaSoc.es, a website affiliated to Social Security, we show you step by step how to process all unemployment benefits and benefits at SEPE offices.

The first thing we will have to do when requesting an inem prior appointment online is to have to go to the SEPE Virtual Office, you can access it by clicking on the following link:
You must do everything in Spanish or regional Spanish languages there are no options for English
 Cita Previa Sede Electrónica SEPE
*Click on the button above to access directly*
Once you are inside the official page, you will see that this offers you different options to choose from, you will see that you can carry out many procedures, for example requesting unemployment or unemployment benefits, etc. For this you will need an appointment, they will assign you a day and time and they will process it from the employment office.
First enter your data, and the procedure you want to do.
This step is basic but not less important, when you have entered the SEPE official page, you will have to enter all your personal information that they request, in addition to selecting the procedure that you want to do. Among the data people will ask you will be:
Zip code where you live, so that you can be assigned the appointment at the nearest office.
DNI, o NIE.
Now select which procedures you want to carry out at the INEM Offices (Sepe), you will have to choose between the following:

Find out about all the benefits
Request any subsidy, Prepare Plan or Benefits.
Bring documentation to the SEPE offices – Inem
Temporary Disability or Maternity / Paternity
Unsubscribe from any benefit.
Change personal data, such as address or bank details in order to collect benefits.
Other steps.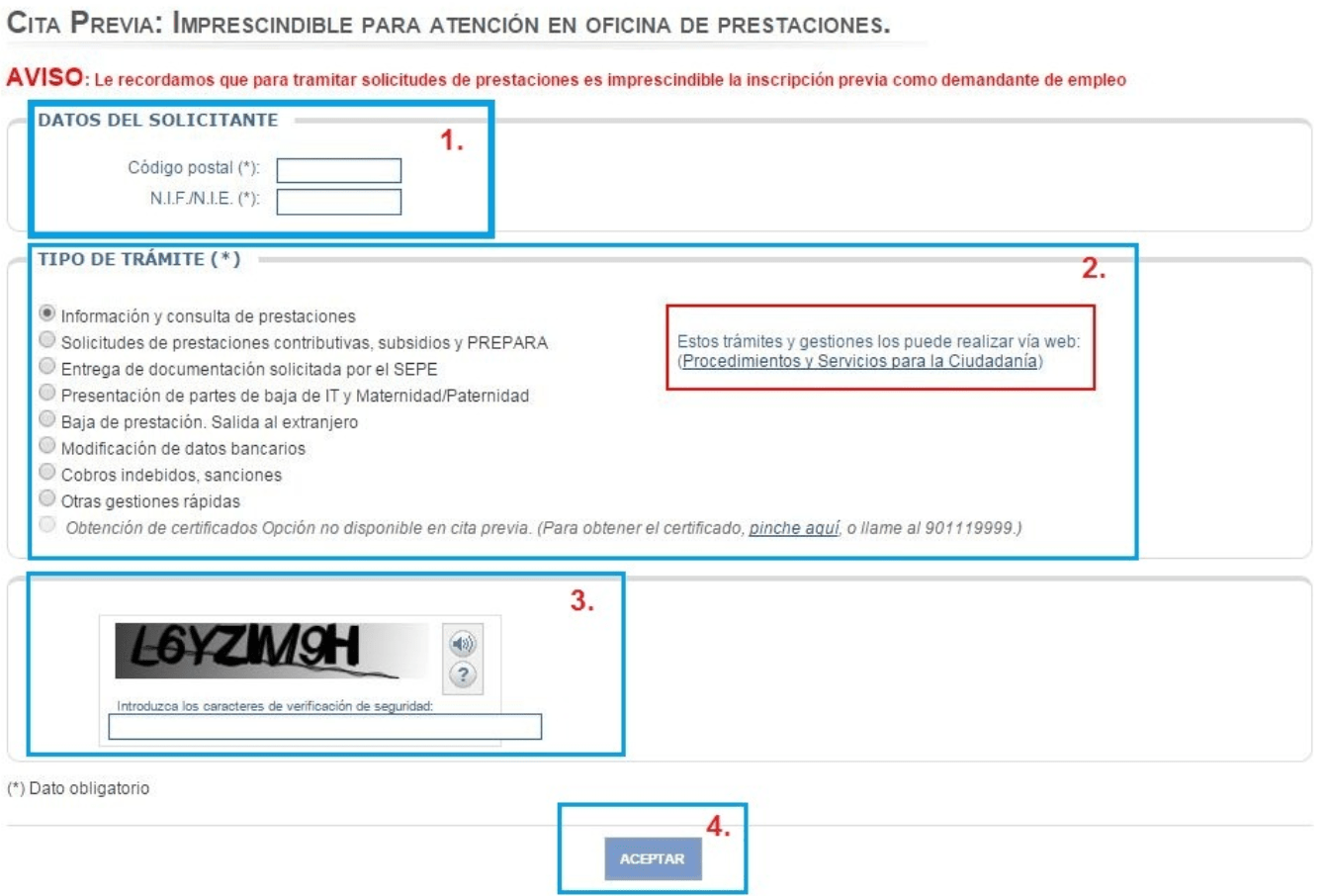 You will have to accept the appointment request in the offices
When you have entered all the data, you will have to click "Accept", once given, the same as the image below will appear, for this you will only have to fill in all the information that is requested.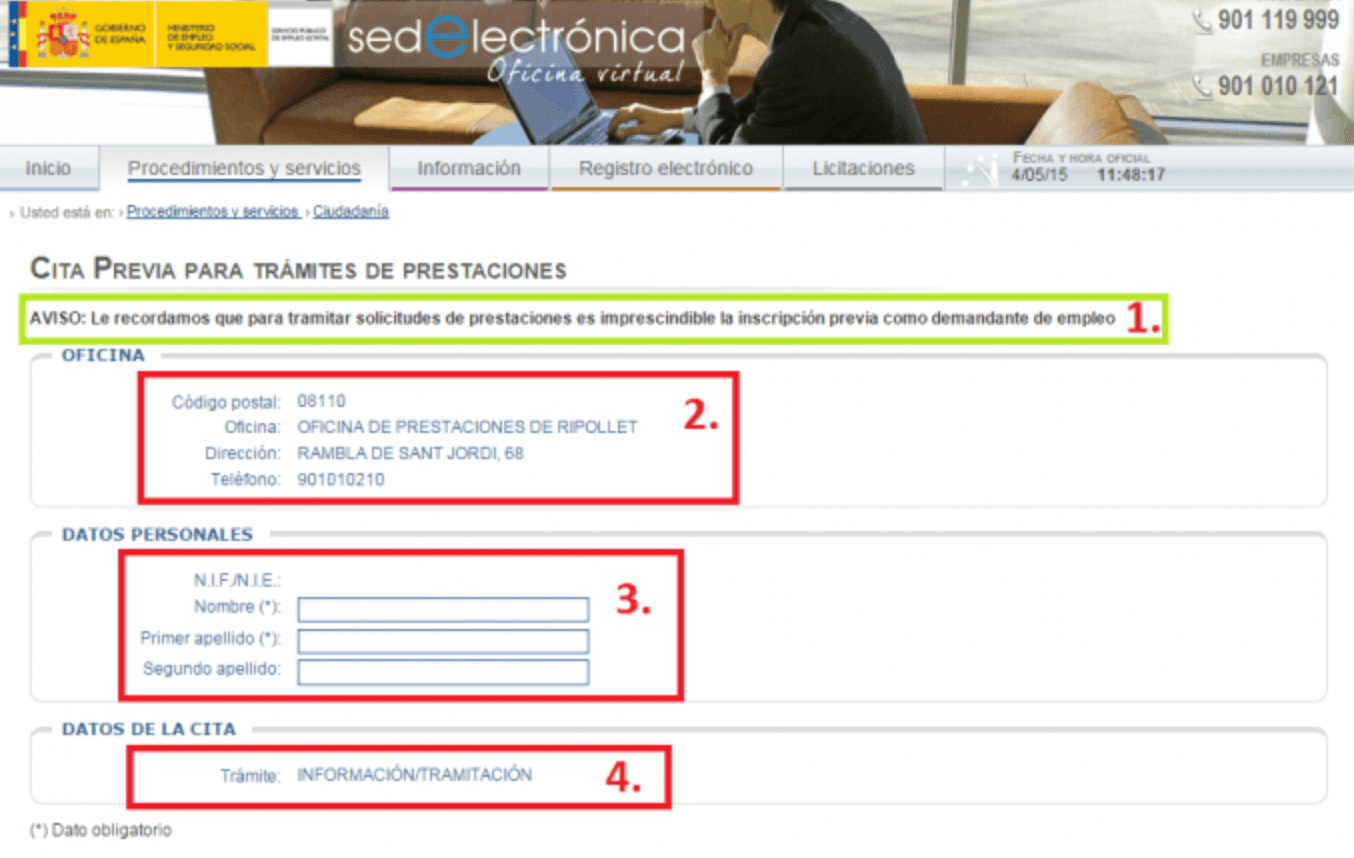 Keep in mind that if we want to process the unemployment benefit, previously you will have to be registered as a job seeker, it is another separate appointment to go to the Employment Office. The good thing is that to sign up for unemployment you will not have to request an appointment online, since you can go without an assigned date.
Once you are registered as a job seeker, then it will be time to request an appointment to request unemployment benefit or any other subsidy
Once you have entered all the information that you request, the same thing that we show you in the image below will appear on the screen.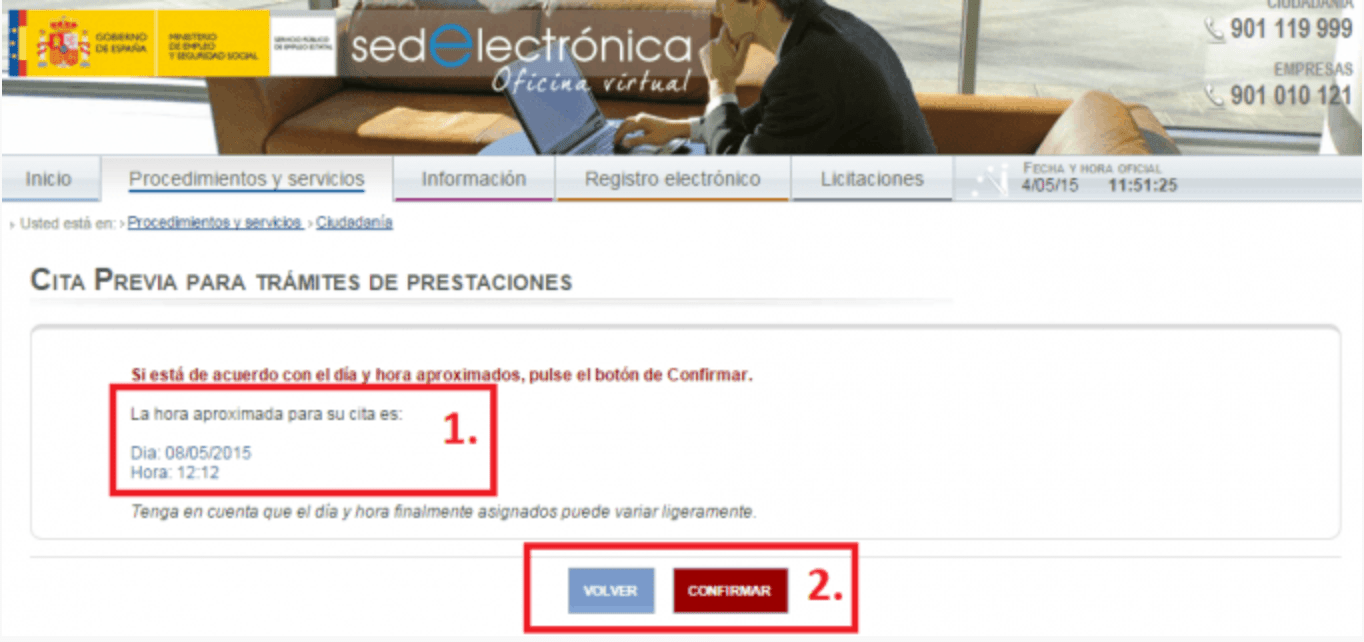 It may interest you